SIHA Weekly – November 6, 2020
In Parshat Vayeira we learn about the miraculous birth of our patriarch Isaac, Yitzchak Avinu. The 89 year old Sarah, upon hearing of her upcoming pregnancy and birth, reacts with laughter. When she indeed gives birth to a son he is named Yitzchak , which is the Hebrew term for laughter.
If we examine the concept of laughter, we find that it is generally triggered by incongruity, by an unexpected absurdity which induces laughter in the observer. A baby speaking like an adult is a sure way to elicit laughter from a crowd, and conversely, Sarah being told she would give birth to a son at the age of 90 could not help but laugh.
The fact that the boy's name is an everlasting testament to the absurdity of his birth is crucial for us, his descendants. In truth, all of Jewish history can only be understood if we realize that in fact our survival and existence is truly absurd and incongruous with other historical experiences. Our continued thriving Nation is a testament to G-d's providence and direct care, for without it we would have disappeared long ago into the dustbin of history.
Hashem wanted our ancestors and us to realize that our very existence is not natural; that is why our founding father and mother only produced Yitzchak at an age where human hope for a child was lost. The very beginning of this nation was supernatural and his name conveys this to us and serves as a reminder in case we should ever lose sight of this phenomena.
It is inspiring to see that the parents of SIHA recognize our unique heritage and want to ensure that their children receive a Jewish education and remain proud members of this unique People.
It has been a privilege to be part of SIHA and although saddened to be leaving SIHA, I am excited to pass the baton on to Rabbi Kuritsky, who brings many years of experience in Jewish education to this wonderful school.
Shabbat Shalom,
Rabbi Stewart
---
Special Feature!

A great big SIHA welcome to Morah Bistriz, the new Judiacs Teacher for 4A! Our intrepid Yaffa Bareket interviewed her for our SIHA Weekly:

Yaffa: When was your Aha! moment that made you realize you wanted to be a teacher?

Morah Bistriz: When I had a teacher who left an impression on me. I still remember her powerful lesson.

Yaffa: Are there any special events this week in your classroom?

Morah Bistriz: We are beginning a Shabbat program on Friday. This week we began with each child telling me what they look forward to on Shabbat. Their answers were mounted on our bulletin board!

Yaffa: How did your first day at SIHA go?

Morah Bistriz: It was wonderful!

Yaffa: What made you to come to SIHA?

Morah Bistriz: I heard from Mrs. Rosskamm, a neighbor and a friend of mine, that it was a great place!

We hope Morah Bistriz has a wonderful time at SIHA!
Please enjoy a new edition of our weekly Podcast!
---
A friendly reminder —
The weather is changing! Please remember that while we want all of our students to feel warm and comfortable, it is imperative that they wear appropriate school uniform attire to school.
For girls that means wearing a skirt knee-length or longer. For boys, proper slacks. All students must wear a shirt with sleeves long enough to cover the elbow.
All tops should be white or light blue, and all bottoms should be dark blue or black.
Please note: no hoodies(sweatshirts with the hood attached).
---
Judaics Curriculum
Kindergarten and First Grade Judaics
Wow what a great week we had in Kindergarten and First Grade Judaics! In Kindergarten we learnt the very, very, straight as a soldier letter VAV! We even have our very own vav-soldier march! In First Grade we have begun to learn the letter Patach, we have been having a lot of fun color coding all the kamatz and patach and are getting very good at differentiating between the two. This week, as a continuation of our davening (praying) unit we made our very own siddurim! We know that when we are davening, we are talking to Hashem. We can thank Him for everything He does for us and ask Him for anything we want! Hashem is always listening! In parsha we learnt about Avraham who did the mitzvah of Hachnosas Orchim, inviting guests, and about the people of Sedom who did the opposite! We made special Hachnosas Orchim cards which we can't wait to use so that we can invite guests over just like Avraham Avinu!
Morah Kaplan
Second Grade Judaics
We had another busy week in 2nd grade Judaics. We learned about two important mitzvot. Bikur Cholim which we all try to do. Just as Hashem visited Avrohom after his circumcision(Brit) Avi told us how he visited his friend who had a broken arm. We try to call our friends who are not feeling well and we are also fulfilling the mitzva that way. Sophie told us how she performed the mitzva of Hacnosat Orchim when Ava came to her house. She offered her food and shared all her toys. We learn this all from this week's Parsha of V'aira. Our forefather Avrohom told the angels he will bring them a little water and he came back with all types of delicious food. It is better to say less and do more. We are working on building up our reading skills and learning all about Shabbat this week.
Shabbat Shalom, Mrs. Spiegel
Third Grade Judaics
Kita Gimel started the week by celebrating their friend's Avraham's birthday. Everyone made a blessing in honor of his birthday and Avremi gave a blessing of health and success to his classmates.
This week we enjoyed our kinesthetic spelling wit jumping jacks, squatting and hoping. We are now maven at spelling the months of the year and we know them mostly in correct order.
We also learnt more prefixes in Dikduk. We now know the translation of 5 prefixes. We cant wait to put words together and start building short sentences in Hebrew.
In Parsha we learnt about the Mitzva of Bikkur Cholim and Hachnassat orchim that Avraham used to live to do. We also learnt about the miracles that existed in Sarahs tent. It was fun to hear the story of th angels who came to visit Avraham.
Shabbat Shalom
Mrs Ivry
---
Elementary School
Kindergarten
This week kindergarten had so much fun at our alphabet party. They made alphabet hats, played with alphabet stamps, made pictures with alphabet stickers, colored the letters in their names to decorate our classroom, made alphabet necklaces, listened to an alphabet story, and popped balloons to find the lowercase letters that were inside each balloon so they can match it to the capital letter. The faster they popped their balloon the more balloons they got to pop! They also had snacks while they watched The Letter Factory. Even with all of this fun they still had time this week to learn how to independently write a sentence. In math they learned how to make an AB and an AAB pattern. In social studies they finished making their all about me books and began reading their books to the class. They also listened to a story about a farmer and a duck and then voted for which character they thought would be the best president in the story.
Ms. Syetta
First Grade
This week our 1st graders learned a lot. We reviewed fact families. We studied the human life cycle and created a chart about our favorite fruits. Students close the Social Studies Unit about families and community.
As a closing activity, students presented a Social Studies Community Leaders project. Each first grader was eager to share regarding leaders in their homes, school, and community. They all did a phenomenal job!
Mrs. Adams.
Second Grade
The second graders have been hard at work this week! In ELA, they have been identifying morals of fables and folktales. They also started their second trade book Charlotte's Web. In math, they have started subtracting two 2-digit numbers with renaming. In social studies, they've been learning the names of the seven continents and the names of all 50 states in the USA.
In science, amazing projects about Food Chain were presented during science Class.
Great Job 2nd graders! Mrs. Belli is so proud of you!!

Ms. Bronstein
Third Grade
This week during Grammar, Grade 3 learned how to create compound sentences using the conjunction and. During our Math class students reviewed how to round to the nearest ten and hundred to prepare for their quiz. They also began working with rounding to the nearest thousand. In Social Studies, we introduced the topic of geography. We discussed the different landforms and their resources we will learn more about next week. During our Russian lesson students learned salutations for their buddies as well as adults. They also began learning a poem called Meeshka. They not only learned the words and their meanings, but also created illustrations to show the plot of the poem.
In science, students finished the first chapter "Plants". Some of the students identified the ways the plants reproduce and grow based on their experiments.
Mrs. Belli wants to commend:
Ryan for an amazing demonstration of his experiment: "Growing potato"
Benjamin: "New roots growing on onion"
Miss Sasha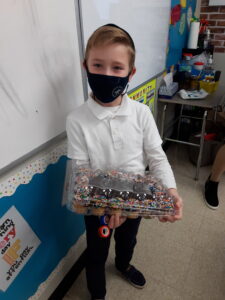 Fourth Grade
4A
This week in math we continued to work on long division, and solve multistep word problems.
In ELA we worked on identifying common nouns, capitalize proper nouns, and change singular nouns to singular possessive nouns. In Social Studies this week we had our chapter 2 test Understanding Regions and started chapter 3 Exploring the East. In science, 4th grade learned about Human Body Systems.
Mrs. Shats
4B
4B had another exciting week! We presented our "all about me" personal narratives to the class. The children really enjoyed reading their narratives to the class! After they read, the rest of the class had an opportunity to ask questions to the presenter. They wrote about their families, hobbies, traditions, and how they can make SIHA a better place. I thought it was a great way for us to learn about each other. I also want to commend Ethan Shenkman for being the only student in 4B to score 100 on the second social studies test! Good job Ethan!
In science, 4th grade learned about Human Body Systems.
Mr. F
Fifth Grade
Fifth graders had a wonderful week! In grammar, they reviewed for their Grammar Test. In reading, they started their new novel; The Adventures of Pippi Longstocking. In Math, students worked on multiplication and division of three digit numbers by two digit numbers. In Social studies, students learned about the U.S. and Mexico.
This week Ms. Tatic would like to commend Joshua Gluck for his wonderful sense of humor.
In science, 5th graders started a new chapter on "Types of plants and their adaptation".
---
Middle School
Middle School ELA
6th Grade
Sixth grade had a very busy week! In Grammar, we reviewed for our vocabulary unit Test. We played an exciting Kahoot challenge with the 7th grade, and I'm proud to say that the 6th graders won! Great job, 6th grade! In ELA, we started our next novel: The Lightning Thief by Rick Riordan. Mrs. Hazen especially wants to commend Noam Tisona and Gabriella Fishman for being amazing!
7th Grade
Seventh grade had a busy week! In grammar, we reviewed and prepared for our unit test in vocabulary and grammar. Everyone did a great job! We also continued our novel study of the Great Gilly Hopkins. We discussed character motivations and started our unit on making inferences from fictional texts. Mrs. Hazen especially wants to commend Noga Sayag for being very diligent.
8th Grade
Eighth grade had a good week! In grammar, students practiced identifying and using figurative language in their writing. We also began our unit on making inferences from fictional texts. Students did a great job! Mrs. Hazen especially wants to commend Taylor Badalov for being a very hard-working student.
Middle School Math
This week the 6th grade class completed their work on problems with fractions divided by fractions. Their first quiz was a challenge, but they persevered and did excellently on the second one! Their week ended with them reviewing long division problems.
7th grade honors is currently polishing their equations solving techniques. They just took a quiz on multistep equations and did quite well. On the other hand, the 7h grade regular is working towards translating mathematical phrases into mathematical expressions. Their most recent quiz proved challenging for them but after going over their corrections they demonstrated excellent comprehension.
8th grade continues to master facts, operations and applications involving scientific notation. In their most recent assessment they did quite well and now they are working on their Unit Review 2 which will prepare them for their Unit Test. Simultaneously, the 8th grade Honors is currently wrapping up their work on solving literal and regular equations. In their most recent Unit Test, the 8th grade honors showed confidence and proficiency.
Mr. Martin
Middle School Science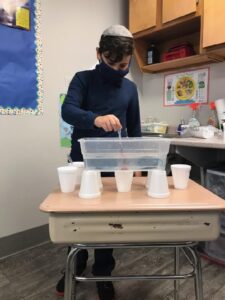 6th graders learned about The Theory of Plate Tectonics, the evidence that geologists used to discover the layers of the Earth.
A mini-lab:" Convection Currents" was performed during the science class.
7th Grade is learning how to think like a scientist. They will be learning step by step how a scientist comes up with a theory. Answering essential questions or identifying problems through observation, investigating and researching data. Students will be creating hypotheses, explaining quantitative and qualitative data through analysis, graphing, experiments. Students will be completing their own lab experiment and writing a full investigative report.
I would like to mention Lana for going above and beyond for her classmates, as she observed one of her classmates needed assistance with an assignment and without prompting or asking walked over to him and assisted him. Way to go Lana! I would also like to mention Noga for outstanding work ethic, as she was unsure what to do for a particular assignment and went about it the best way she knew how without clarification as she didn't want to "just not do it" she earned extra credit for completing the assignment.
8th Grade students are learning how our body responds to various macronutrients and what purpose they serve. Students will be able to explain how and why food does not just enter our cells that it must go through a process before we can use the nutrients from the things we eat. Students will be analyzing their own eating habits and make changes within their daily diet and activities. They will be explaining how they enter cells and what body systems work together to distribute said nutrients. Students are also investigating what things look like under a light microscope and identifying the various types of microscopes and what they are used for. Students are learning the difference between quantitative and qualitative data, how to extrapolate data and plug it into the appropriate type of graph.
Middle School Social Studies
This week all of the middle school students took a break from their regular studies to examine the U. S. presidential and Congressional elections, which occurred on Tuesday. All of the students learned about the Electoral College, from its creation in Article II, Section 1 of the U. S. Constitution to its modern form. Students discussed how and why the Founding Fathers chose this particular system. Also covered were the national Senate and House races, including a look at the composition of the chambers prior to citizens going to the polls.
As the results have been delayed this year due to unique circumstances, students were given longer than normal to discuss the election process and developing stories, both in a formal class setting and informally amongst themselves, than they normally would have had. All 3 grades displayed an impressive interest in the process and asked probing questions regarding the particulars of the system by which America chooses its chief executive.
Kudos to 7th grade's Lana Mednik for completing the bonus assignment over Election Day. Keep up the great work, Lana!
Kudos also go to 8th grade's Josh Osher for completing the bonus assignment on Election Day.
Noam Tisona from 6th grade also deserves a commendation for completing the bonus assignment on Election Day!
Mr. Kaufman.
Jewish History
7th grade has spent the week exploring the wonders of the world as we figure out how Avraham Avinu recognized Hashem. We began our first major project and I am looking forward to the results. 8th grade is learning more about exile and what it accomplishes.
Mrs. Rosskamm