Mrs. Ilanit Dinar
Business Office Manager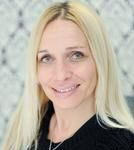 Ilanit Dinar is the daughter of a Jewish Ukrainian born mother who immigrated to Israel and instilled in her children the importance of Jewish heritage. Being born in the US, Ilanit went to yeshiva her entire academic career and she graduated from Flatbush High School. Together with her husband, she continues with sending their own children to Yeshiva as preserving Jewish heritage is something they value immensely. Ilanit graduated from Briarcliff College with an Associate's Degree in Business. She obtained Series 7 and 63 License and worked in Bear Sterns as a registered sales assistant. With her financial background she helps run SIHA's administration efficiently. She is extremely dedicated to SIHA as she strongly believes in its mission of a great academic education while teaching the students to have a love and appreciation for their Jewish roots.
Ms. Carmit Cohen
Parent Coordinator
Carmit Cohen is the proud parent of Jaden, a 4th grader at SIHA. She has been involved with the PTA ever since enrolling her son in the school and has planned many beautiful events in and around the school grounds.
Mr. Steven Kaufman
Director of Operations
.Steven Kaufman has been working at SIHA since September 2020, in various roles and now serves as the school's Director of Operations. Mr. Kaufman holds an MA from CUNY and brings well over a decade of experience in the educational field to this position, including having been a former university professor  
Mrs. Cynthia Adams
Elementary School Teacher
Mrs. Adams had taught in both public and private schools in New York City for over 20 years. She has a Master of Science Degree in Education and has taught in grades Pre-K through 8. As a seasoned teacher, her primary goal is to create a classroom environment that is conducive to helping students learn and develop their skills in a variety of ways. Teaching them to be independent, respectful, and responsible are her goals for her first graders since such characteristics are stepping stones to a healthy self-esteem and a lifetime of success.​​​​​​​​​​
Mrs. Valbona Belli
Russian Language Teacher/Science Teacher
Ms. Belli is an expert teacher with more than 15 years of experience in early childhood and elementary education field. Ms. Belli is an expert on early literacy and reading comprehension, which is very helpful in her current field. Presently, Ms. Belli's concentration is science. She has improved the science curriculum by enriching it with lots of hands-on activities for the kids. Every lesson culminates in a lab, which ensures long-term retention. She has worked in the schools in Florida and New York City, and all her former
employers consider her a great asset to the school because she truly cares about each child, is very organized, and communicates her expectations clearly to students and parents alike.​​
Mr. Andrew Ferrera
Resource Room Teacher and After School Supervisor
Mr. Ferrera has a bachelors degree in early childhood education, from The College of Staten Island. He has been working with children for 8 years, and this will be his 4th year with us at SIHA. During his time here at SIHA, "Mr. F" (as the children refer to him), has been a part of the after school program, taught gym class for grades 1-8, and provided paraprofessional service to one of our Nachas students. He will be focusing his masters studies on special education. His love and interest for special education stems from his love for his son, who has Autism. He has always known he wanted to work with children, but his son's diagnosis has tweaked his path, focusing on those with special needs. Mr. Ferrera's teaching philosophy is emphasized by his belief that the most effective teachers have the ability to keep the students engaged, and the best way to keep them engaged is to make learning fun. He also stresses the importance of play as an important part of the learning process, especially in the elementary years. It is through play that we learn very important skills, like working together, developing self esteem, developing leadership qualities, overcoming fears, dealing with failure, dealing with success, and learning to be understanding of others. Mr. Ferrera believes that developing these essential skills in the elementary, and middle school years will help our students develop in all aspects of their lives.
Mrs. Patricia Giordano
Middle School Advisor and Science Teacher
Mrs. Giordano has over 8 years of teaching experience working with a diverse group of students from 6th – 12th grade and has obtained a Bachelor of Science with concentration in Biological studies from Empire State College. Mrs. Giordano's experience sitting on the School Leadership Team (SLT) has afforded her the opportunity to identify the needs of scholars, by focusing on trends that students struggle with, that may cause an interference with their success in the classroom. As a result of her participation on the SLT, her skills and ability to identify the needs of struggling students and creating a plan of action for their success, is strength within the school community; this is evidenced by the number of special education students that have passed the Living Environment Regent, along with her overall pass rate of this exam. Mrs. Giordano believes that no two children learn the same, and as a result, her passion for differentiating instruction to ensure that all students receive the content in a manner that they understand, is the driving force behind her planning. It is her goal to create a rapport with all students, so they can build a trusting community together wherein the students will accept the challenges that are put before them. This enables the students to succeed and not be afraid to fail, so they can learn and grow from their weaknesses and turn them into strengths
Ms. Regina Iannizzotto
Elementary School Teacher
Ms. Iannizzotto received her dual undergraduate degree in General/Special Education from the College of Saint Rose in Albany, NY and a Masters degree in literacy from Touro College. Ms. Iannizzotto is a Reading Specialist with specific training in Orton Gillingham methodology and has been working at SIHA for 4 years. She prides herself in building lessons that are hands-on. Interactive learning is Ms. Iannizzotto's main mission for her classes because it keeps the students interested and allows for them to facilitate their own education in a way that works best for them. In her class, the students are always working together to solve problems, answer questions, and lead their own learning.
Ms. Ety Perez
Ivrit Teacher
Rabbi Yaakov Kuritsky
Judaic Studies Rebbe
Rabbi Kuritsky was born in NY and raised in Baltimore, MD.
His father, now retired, practiced as a Rabbi and a child Psychologist. His mother of Blessed memory,  a loving homemaker, was born in Russia prior to WWII.
Rabbi Kuritsky was educated in Yeshiva Beth Moshe high school of Scranton, PA and continued there for four years post High School. He continued his education in Israel and then in Beth Medrash Govoha of Lakewood, NJ.
Rabbi Kuritsky has also taken many courses in Education and Pedagogy. He holds a bachelor's degree in Rabbinic and Talmudic Studies.
He comes with many years experience teaching both Secular and Judaic Studies. He has been a Principal for both Judaic studies and Secular Studies collectively for over two decades.
He is known for his love and caring for students and helping them reach their potential. Students and parents cherish the individual attention he gives to each student.
Ms. Mary Beth Melendez
School Guidance Counselor
Mrs. Alla Shats
Elementary School Teacher
Mrs. Shats has over 13 years of teaching experience working with children from k to 6th grade and has obtained a Bachelor's Degree in elementary education, with concentration in Math, from St. John's University. After graduation, she continued to pursue a Master's Degree in Childhood Education/Special Education at Touro College. Mrs. Shats believes that education is the key to success for young children. As a teacher, she hopes to motivate students, promote effective learning environment, build curiosity, and foster confidence in all of her students. She is eager to commit and encourage children's interests in different subject areas, and is determined to challenge their abilities and inner strengths to discover and explore what truly inspires them. Mrs. Shats loves working with children and will continue to strive to be a positive influence in their lives. She hopes that her passion for teaching will create a desire for constant learning within each child.
Mrs. Rhonda Sherman
M.S., CCC/SLP
Rhonda, our Speech-language therapist, is a NY State licensed Speech-Language Pathologist and maintains certification with the American Speech-Language-Hearing Association (ASHA). Rhonda has over 25 years of experience in diagnostic speech evaluations, treatment and case management of children, adolescents and adults with a wide range of developmental and acquired disabilities.
Rhonda graduated with a Bachelor of Science from College of Staten Island in Psychology and received her Master of Science in Speech-Language Pathology from Brooklyn College City University of New York. Rhonda completed her externship at Staten Island University Hospital with clinical practicum in the ventilator and neurology units as well as the Outpatient Clinic. Rhonda also holds a degree as Teacher of Judaic Studies from Bnot Torah Institute Jerusalem, Israel.
Rhonda's clinical experience includes providing services to individuals from infancy to adult, evaluating and treating individuals with a variety of disorders including: Feeding and swallowing disorders, Articulation disorders, Language disorders, Voice disorders, Fluency disorders, Traumatic Brain Injuries, Vocal Cord Dysfunction, Autism Spectrum Disorders, Hearing Impairments, Cerebral Palsy, Prematurity, G tube feedings, Central Auditory Processing Disorder, Sensory issues, Aphasia, Attention Deficit Disorder/Attention Deficit Hyperactivity Disorder and Down Syndrome.
Rhonda has been Director of Clinical and Homebound Services for Midwood Child Development Center and currently maintains a private practice servicing Early Intervention (EI), Committee on Preschool Special Education (CPSE) and Committee on Special Education (CSE).
For the past 20 years, Rhonda has been providing services to private school students with a wide range of learning disabilities and has been working with Staten Island Hebrew Academy (SIHA) Nachas Program since 2018.
Rhonda's mission at SIHA is to have each child reach their maximum potential by providing exemplary assessment and treatment of communication skills with quality speech-language therapy, all while having a positive educational experience.
Mrs. Shaindy Spiegel
Elementary School Judaic Studies Teacher
Mrs. Spiegel is a graduate of Maimonides College and Beth Jacob Teachers Seminary of Toronto. She also studied at Midrasha Ohr Yerushalim in Israel. She has many years of teaching experience serving as preschool teacher, Sunday school teacher, afternoon school teacher and adult education instructor. Her love for Yiddishkeit can be seen in her approach to teaching. She always sees the good in every child and her Yideshe Mama really shines through. As a result, the children greatly enjoy learning about their heritage.
Mrs. Alexandra Slonim
Middle School and Nachas Program Teacher
Ms. Svjetlana Tatic
Middle School Teacher
For Ms. Tatic art and education go hand in hand. She has always been passionate about both. After receiving her degree in Art Design from the Art Institute of Phoenix, she has attended Youngstown State University and took classes in Art History, English Literature, and Fine Arts. Currently, she is working on obtaining her Early Childhood Education Master's degree. Ms. Tatic is constantly perfecting her teaching skills. Since the beginning of 2016, she has worked as a tutor for English Language Learners from China. She has worked one on one and in small group settings. She has taken many courses to refine her classroom management and pedagogy. Ms. Tatic's first day at SIHA was last year. She came in as a substitute teacher for first grade and instantly fell in love with the school. Her teaching philosophy perfectly matches the school's values. Ms. Tatic believes in an individualized approach to each child, as well as taking into consideration children's strengths and interests. She also believes that building strong relationships with families tremendously benefits students. Ms. Tatic is hoping to build strong bonds with all SIHA families to make sure that her students will have only positive learning experiences. Ms. Tatic is looking forward to being a member of the SIHA family and help her students develop a love of learning every day!
Mr. Roumany Toumas
Middle School Math Teacher
Mr. Toumas has over 18 years of experience teaching math to students from grade 1 to grade 12. He comes to us highly recommended by the Yeshiva Tiferes Naftali High School, where he taught algebra, geometry, and pre-calculus to students. He also helped prepare his students for the SAT exam. 
Ms. Jill Treisder
Occupational Therapist
Mr. Toumas has over 18 years of experience teaching math to students from grade 1 to grade 12. He comes to us highly recommended by the Yeshiva Tiferes Naftali High School, where he taught algebra, geometry, and pre-calculus to students. He also helped prepare his students for the SAT exam.
Ms. Sarit Glickman
Nachas Assistant
Mrs. Iris
Nachas Assistant
Mrs. Sterna Ivry
Elementary School Judaic Studies Teacher