Dvar Torah
As Yaakov and his family prepared to descend to Egypt, Yaakov sent Yehuda ahead with an important mission.
What was this essential mission that needed to be completed before Yaakov and his family could arrive?
Yaakov sent Yehuda ahead to establish a Yeshiva in Egypt. He designated a place for Torah learning. When the Jewish people arrived in Egypt, they were able to study Torah right away without any breaks. They were able to keep their tradition strong. They were able to educate their children.
Each Jewish child got a very strong message that the most important thing was Torah learning. Even before they set up homes to live in, they set up a Yeshiva to study in.
Wherever a Jewish person goes, the first thing a person must check is if there is a Jewish school. Is there a place to teach my children? Will they learn what I need them to know? A Torah education is the hallmark of the Jewish people, then as now, in every generation
Mrs. Rosskamm
Judaic Studies Curriculum Coordinator
---
Special Announcement!
A great big SIHA congratulations to all of our Students of the Month for November!
Kindergarten – Ilan Kadymir
First Grade – Ethan Sandler
Second Grade – Sloane Garber
Third Grade – Gal Zadok
Fourth Grade – Matthew Kipnis
5A – Oren Hecht
5B – Ben Jaffe
Middle School Judaics – Grego Charles
Middle School – Oren Bilik
---
Judaics
Kindergarten and First Grade
We baruch Hashem had another wonderful week in Kindergarten and first grade Judaics!
We wrapped up our Chanuka festivities on Monday by receiving delicious donuts and playing a fun game of pass the present around! The first graders also did a great job on their Chanuka quiz!
In kriah, the kindergarteners learned a new letter, TET, which looks just like a teapot! They know their letters really well! The first graders finished learning the nekuda patach and began learning the nekuda tzeirei which looks just like eyes (einayim). They're also becoming pros on knowing how to read and define real kamatz and patach words.
We were so excited to begin learning the brachot (blessings) that we say on food before eating! We learned how important it is to thank others for what they give us. When we make a bracha, we thank Hashem for all the food He gives us! We learned about the bracha which is said on bread products – hamotzi- to thank Hashem for making the wheat which enables us to bake bread. We even know a song about the process of how flour becomes bread! Also, we made fun hamotzi men from different pictures of hamotzi food which we can hang in our homes to remind us of which brachot to say.
In parsha, we learned how Yosef finally revealed himself to his brothers and completely forgave them.
In tefilla, we learned the bracha that's said on the special mitzvah that a Jewish boy has – the mitzvah of tzitzit! We each received our own tzitzit to wear during tefilla! The girls learned about the special mitzvot that they have and the bracha of she'asani kirtzono to thank Hashem for making us the way we are.
Looking forward to another wonderful (and packed) week!
Morah Chavi
Second Grade
We had a great week as we are building our reading and writing skills in Hebrew. Learning how to say the colors in Hebrew and of course delving into the wisdom of this weeks Torah Reafing (Parsha). We learn from Yehuda who at first got angry and excited when the Egyptian viceroy(who was really Yosef) refused to allow him to stay as a slave and insisted on retaining Yosef. Afterwards Yehuda changed from being angry to speaking pleasantly and begging. We learn from this that we accomplish what we want by speaking nicely rather than by being angry and raising voices. The other lesson we learn from is f Ty on our ancestor Yosef. Before revealing his true identity to his brothers, had sent all the ministers and Egyptians out of the room in order to save his brothers from being embarrassed. We see how careful we should be not to embarrass anyone. We hope you enjoy the homemade challah at your Shabbat table tonight. Shabbat Shalom, Morah Spiegel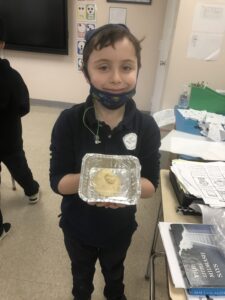 Third Grade
Third grade had the most amazing week swinging back into routine.
We reviewed our numbers in Ivrit and our Dikduk skills beautifully.
I'm so impressed how they've really picked up the skills.
Olivia Abromov taught us the wonderful lesson how just by doing one Mitzvah, it causes so many more!
We are all trying to do as many Mitzvot that we can and earning our reward in class and in Olam Habbah of course.
We learned Parsha this week really well! Third grade keepit up!
Can't wait for next week where we will learn so much more.
Shabbat Shalom!
Fourth Grade
After a beautiful Chanukah we were back to work.
In Tefilla class after a wonderful Davening, we went through the Beracha of Asher Yatzar. We spoke about how we have thank Hashem that we are Healthy. The children knew many of the words of the beautiful Beracha on their own.
In Kriah class we spoke about Prefixes and Suffixes. We said a Shoresh and built a word and realized how the word meaning changed when we added a Prefix or Suffix.
Yes, our Chumash Play is getting closer, and we are very excited and counting the days. The children are practicing their parts beautifully.
In our Yahadus class we spoke about the different seasons and how to say them in Hebrew. The children had tons of fun trying to find out what we do in each season.
We also spoke about the different directions in Hebrew. We all Daven toward the East, and the children know why.
In Parsha class we spoke about how Yosef sent everyone out when he revealed himself to his brothers. We discussed how you must not embarrass anyone.
Shabbat Shalom,
Rabbi Berelowitz
5th and 6th Girls
Dear parents.
Thank G-d, we had an absolutely incredible Chanukah week at Siha!
We decorated donuts with frosting and colorful sprinkles – delicious! We had a wonderful time learning Chumash on Wednesday. We had Ella Dery as our watchmen, in case the Greeks would come and see us learning Torah. They would kill us because that is against our King Antiochus's decree, which does not allow us to learn Torah. Every time Ella saw Greek soldiers coming near our cave, she would shout, "The Yevanim (Greeks) are coming!" and we would speedily put our Chumashim into our desks and take out our dreidels to play.
The dejected Greeks unfortunately could not kill us for learning Torah..
We had a spectacularly fun time at Roller Jam on Thursday. I'm not sure why the girls seemed so surprised that I could rollerblade:)
We decorated our colorful dreidel pinatas with Chanukah stickers and filled them with lots of awesome candy.
I am so proud to hear that all the girls are lighting their Menorahs at home.
Each day of Chanukah, we practiced lighting a Menorah in our classroom, singing the Berachot and songs together. And, of course, don't forget our daily Chanukah dancing after we lit the Menorah.
We tried to stick in some regular learning as well:) We learned the Beracha of Mezonot, which we say on cake, cookies, pretzels, etc. It is the blessing we make on grains that are not turned into bread.
It is important to note that tonight we are lighting the Menorah before we light the Shabbat candles because we can't light fire on Shabbat.
Have a wonderful and happy Shabbat Chanukah!
Enjoy your weekend.
Best regards,
Miss Dershowitz
5th and 6th grade boys
We are back on track, after our Hanukkah holiday schedule and activities.
We started off our week by davening and learning and a spectacular Chanuka M'seba = party.
We moved further in Mishna Baba Kama. We leaned and acted out a case of a rider on a "horse" asking another person to acquire a found [aka lost] object, and what the Halacha will be if the one who picked it up, not the rider acquired it for himself, or said he meant to acquire it for himself, after giving it to the rider.
We, of course, studied the emotional Parasha, Parashat Vayigash, in outline form and will be testing on it on Monday.
7th and 8th Girls
7th and 8th grade girls began the week with a nice outline lesson on the emotional Parasha, Parashat Vayegash, where Yosef finally reveals himself to his brothers as alive and viceroy of Egypt. The beautiful reunion of father [Yaakov Avenu] and son [Yosef Hatzadik] is described, as well as the settling of B'nei Yisrael in Egypt.
The girls were treated to preparing mini skits with Miss Dershowitz , which they enjoyed.
We completed another Perek on Yehoshua. It discusses the story of a man named "Achan", who went against the rules and removed booty from Jericho, causing loss of a battle and lives to his fellow Jews, We learned about how Yehoshua caught the criminal and dealt with him.
We began the next section in the laws of Hashkamat Haboker.
Girls were privy to a few enjoyable and inspiring videos from CLEAN SPEECH ILLINOIS.
After watching the videos and following the example of Naomi Applebaum, girls practiced what we learned on the videoes .
Please ask your children what they acquired from the video lessons
7th and 8th Boys
What a terrific week it was. In tefilla class we spoke about the Beracha in Shemona Esreh of Refaeinu, that Hashem heals the sick. We spoke about how grateful we need to be, that we are healthy.
In our Gemara class we started the Gemara after we finished the Mishna. We saw a beautiful Gemara that has a question, answer, question, and answer.
Our Halacha class was very interesting. We discussed how a person needs to act in life. We gave examples and we want to put it into practice.
Ilan Abramov and Jeffrey Shutman were this week's raffle winners.
Keep it up,
Shabbat Shalom
Rabbi Berelowitz
---
Elementary School
Kindergarten
This week kindergarten read their predictable books that they wrote to the class. They were so proud of themselves for writing their own books and being able to read them to the class. They did a wonderful job! In math they continued to play games to practice comparing numbers 1-20 and practice adding plus 1 to a number. Some students enjoyed this lesson so much they asked to practice comparing numbers and adding plus 1 to a number all the way to 100! In science they learned all about the difference between weather and climate. They watched videos of different locations to help them make comparisons of the different types of climates. In social studies they finished making their All About Me books and they shared their books with the class. They made a very smart conclusion from this assignment that although they have some things that are different from other people they also have at least 1 thing in common with others.
First Grade
The fabulous first graders had an amazing week of learning. This week we learned about the water cycle in Science class. Students enjoyed making observations about evaporation, condensation, and precipitation. In ELA, we read and wrote poetry about the seasons. Students gave great descriptions using sensory language to express how seasons look, feel, sound, taste, and smell. In Social Studies, we learned about education long ago. Students were surprised to see tools like quill pens, inkwells, and slate boards. Students also made a model of a hornbook, which was a tool used to teach writing the alphabet to students. First graders are so appreciative of the textbooks, notebooks, and smartboards we have in our SIHA classroom today.
Second Grade
After a week of Chanukah fun, it's back to business for 2nd grade. We had a big week, featuring a math unit test on addition and subtraction, which the class did very, very well on, and a social studies unit test, which I have yet to grade, but I am confident the class did well on as well. We are beginning to work on how to properly structure a paragraph in ELA, while continuing to read our book, Charlotte's Web. For the month of November, Sloane Garber received student of the month! She was chosen for her continual completion of assignments, excellent grades, and good behavior. Congratulations Sloane!
In science, students learned animals and plants that live in freshwater habitats and their characteristics; what an ocean is and animals that live there and the connection of food chains in the ocean.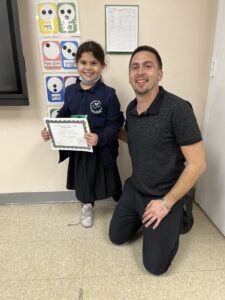 Third Grade
This week 3rd grade students completed their class novel Love That Dog. They are all very excited to begin their next novel on Monday. During our Grammar and Spelling lessons, students practiced modifying singular nouns into their plural forms using -s and -es. During our Social Studies lessons, students learned of different land and water formations. We also learned of the benefits and hazards of living on or near particular landforms. During our Math lessons, we continued to work on our mental math strategies and solving word problems using whole part and comparison bar graphs.
In science, students will learn and explore ways to classify animals;
Contrast vertebrates and invertebrates; understand the differences between different kinds of animals.
Fourth Grade
This week in math we completed our unit on Operations of Whole Numbers and started a new unit on Fractions.
Students identified and found equivalent fractions. Compared and arranged fractions in order and
In ELA we started a new unit on Verbs and Persuasive writing. Students identified action verbs, present , future and past verbs. Used present tense verbs that agreed with the subject of sentences. Completed persuasive writing activities.
In reading we are continuing to read our class chapter book inside Out and Back Again.
In science, students learned and described the life cycle of a flowering plant; compared the life cycle of different plants; learned about inherited traits. Chapter Test was given to students.
Fifth Grade
5A
Greetings and salutations!
5A has been quite busy in ELA this week. We continued our vocabulary study and reviewed nouns.
We also have been putting a lot of emphasis on our class novel. I am very happy with the writing and class discussions we have had so far.
5B
Classes 5A and 5B experienced many exciting Chanukah events and activities. All we have are fond memories of a very joyful and wonderful holiday. Now we must focus on our school assignments. In ELA we are learning about nouns and how to form plural nouns.
We are also doing many writing activities in Language Arts and Social Studies. The children are, also, learning many new vocabulary words.
In Social Studies, we are reading about the early European Explorers. Their reasons for coming to the Americas. Their hardships, and what each explorer discovered . The children will have a quiz on this topic.
Class 5B is reading Holes. The children are also acting out the roles of each character, while we read the book.
In science, students learned two major groups of plants and their classifications.
describe the series of changes a living organism goes through; understand the role of plants in the daily diet.
Mrs. Belli was so proud of every 5th graders for an organized Lab Report about "Celery Stem".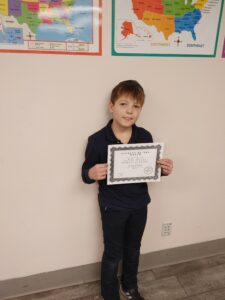 ---
Middle School
Middle School ELA and Social Studies
6th
Greetings and salutations!
This week the 6th graders learned about pronouns- personal, possessive, and indefinite to be precise. They continued their novel study of Hatchet. I am happy to say that the 6th graders have been doing an amazing job locating different types of conflict within the book.
In social studies the 6th grade continued its journey through ancient India. The students were particularly curious about the caste system and peoples' place within it.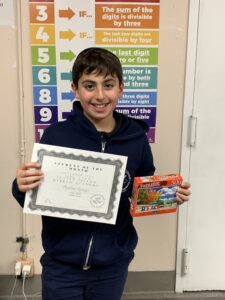 7th
Greetings and salutations!
In ELA the 7th grade practiced more with pronouns. They also wrapped up Fever 1793 and wrote their final journals about the novel. I am looking forward to reading them!
We also started our new novel, The Master Puppeteer. The introduction activity and discussion to the new novel was very engaging.
In social studies the 7th grade continued to learn about Colonial America. The students were shocked at how much land the settlers could get if they immigrated here from England. They were also shocked at the age of some of the indentured servants. The students also watched a short film about how the settlers would build a log cabin.
8th Grade
8th graders had a busy week! In ELA, students wrapped up their unit on pronouns, and took a vocabulary quiz. Students also drafted their essays on allegory in Lord of the Flies. Everyone did a great job, but Mrs. Hazen was particularly impressed with Noga's draft! Great job!
In Social studies, students started our unit on World War 2. We learned about the beginning of the war, and wrote a journal in which we compared the rise to power of dictators in Nazi Germany and the Soviet Union.
Middle School Math
5th has been applying fraction operations to challenging word problems.
6th has finished reviewing fraction and decimal operations and applying them to word problems.
7A
7th has finished reviewing the unit on geometry.
7B
This week we have been reviewing for our upcoming exam on the area of circles and composite shapes, as well as scale drawings. We have been so excited to work with the new smart boards to show off our work!
8th has finished unit on inverses and linear equations.
Middle School Science
6th gr.
Students learned the features of a volcano and how a volcano forms, and become familiar with the processes involved in volcanic eruptions.
7th Grade
7th grade is discovering the ways in which we identify the characteristics of physical properties, the difference between a physical and chemical change and how we determine the various characteristics of matter. Students will watch various videos and conduct hands-on investigations to determine the density of an object.
8th Grade
Students are discovering what it means to be alive! Students will be completing a Scientific Explanation answering the essential question "What does an organism need to be deemed alive?" They are investigating various articles and will watch a few videos to begin their investigation, so they can determine a position and make a claim. Once their investigation is complete, students will make their claim and support it with evidence from the sources they used to complete their investigation.
Jewish History
7th grade explored the Tower of Bavel with an interesting side trip into the patterns of nature, where they come from, whey they were created and the lessons they teach us.
8th grade began exploring the times of the second Bais HaMikdash and the transition period of the Anshei Knesses HaGedolah.