Dvar Torah
Dvar Torah Parshat Sh'mos
Parshas Sh'os speeds through our suffering in Egypt under a "new Pharaoh" [One Rabbi in the Gemara says he was actually a new Pharaoh, and one Rabbi in the Gemara says he was the same pharaoh who benefited from Yosef's amazing business acumen but chose to pretend he was someone] who did not know Yosef.
Immediately after briefly describing the suffering the Torah begins to elaborate on our redemption.
After Yosef made the Egyptian empire the wealthiest in the world, they turned against Yosef's people and family, enslaved them and tortured them. This is similar to the holocaust; after Jews gave so much to Germany and Europe, in the areas of Science, Math, and Medicine etc. the Nazis and other European countries turned against our Jewish relatives, tortured, enslaved and murdered them.
Our Rabbis, may their remembrance be for a blessing, tells us that the Egyptians were on the lowest level of impurity. Our forefathers were almost on the same level, after living with the Egyptians for so many years. They tell us that we were exiled on the merit of a few deeds.
we did not change our way of dressing [we did not follow their styles]
we did not change our language [we spoke in Hebrew]
we did not change our names [we used Jewish names]
Recently I was approached by a [PTA president[ parent,and was suggested that we call our students here in SIHA by their Jewish names. As we see that this is one of the merits that we Jews on no longer enslaved by the Egyptians, we realize that this is no small deed.
One of the reasons that were mentioned to call students by their Jewish names was, so that the students do not forget their Jewish name!
I actually have a brother in law, who was "Chozer Bitshuva" [became religious after growing up as a conservative Jew]. He became religious at the age of 18 years old. For 40 years , when he was called to the Torah he was called up as Mordecai Mendel ben [Hebrew for son (of)] Simcha Tzvi Hersh. Recently, his mom found his "Bar Mitzvah certificate" which stated that his father's name was NOT Somcha Tzvi Hersh, but Simcha Arye! Forty years of not knowing his father's correct Jewish name! Who knows how many years his father, may he stay well, did not know his own correct Jewish name?! I also recently, at the bidding of my father, may he live long and stay healthy, attended the funeral of my father's cousin "Billy". At the funeral,when they wanted to say a prayer for him, the deceased, no-one , not his wife , not his children or any of his relatives attending the funeral, knew what his correct Jewish name was!
This can be preempted by using our Jewish names!
We often feel that we have to hide our "Jewishness" from non Jews. we feel that if we do so they "won't know", or they will accept us better. Unfortunately, history has proven the polar opposite to be true.
When a friend of mine was engaged to be married, his father Mr Yisroel Lefkowtz o.b.m., a religious Jew who was very active in the Agudath Israel of America was in Washington D.C. advocating for Jews. He decided to visit the bride's father who was a religious Jew who served the U.S. as an attorney for the federal government. The bride's father's name is Mr. Moshe Simon [also a Chozer Bitshuva (he grew up irreligious, but then became religious at the age of 19)]. Mr Lefkowitz assumed that any Jew who worked in such a position in the U.S. government would be quiet about his Jewishness and use an American name as a substitute for "Moshe" i.e. Morris or Martin etc. Mr Lefkowitz went to the Washington building and asked the receptionist "do you have a Martin Simon?" She responded "no". He then asked "do you have a Morris Simon?". She said "no! but i do have a Moshe"! He went to the attorney's office, not only finding him using the name "Moshe", but dressed as a religious Jew [looking almost Chasidic (Hasidic), complete with Yarmulke [Kepa] white shirt, long black coat and black hat! An attorney for the federal government in Washington D.C.
Let us be proud to be Jews and Jewish. This is the United States of America. We are given freedom of Religion. Let proudly "flaunt" our Jewish names. We will be able to remember our Jewish names and perhaps that will be a merit to bring the Moshiach, the Messiah and the final redemption that we are anticipating!
Shabbat Shalom Rabbi Kuritsky
Judaic Studies Curriculum Coordinator
---
Special Announcement!
Winter break is upon us!
SIHA's winter break starts on 1/21 and continues to 1/29.
That means that last day of classes before Winter Break is Wednesday, 1/20.
Classes resume on Monday, 2/1/2021
Please note!
The week of 2/1/2021 will be a remote learning week.
From Monday, 2/1/2021 to Friday, 2/5/2021 SIHA will be learning online.
Programming News
Dear parents.
We had an amazing week, Boruch Hashem!
The students worked on speaking positively and watching their mouths from talking negatively about others.
We gave out many many treats (sour lips for watching our lips?) for all the Shemirat Halashon cards filled out!
Congratulations Sophie Dym on winning the school-wide Shemirat Halashon raffle!
We're so proud of her and every single student who works on controlling themselves from speaking bad about others.
We all tried to wear our adorable red bracelets that remind us not to speak Lashon Hara! There are very special raffles for those who wear them every day.
This is the link to the amazing 7th and 8th grade girls' Shemirat Halashon video.
https://www.youtube.com/watch?v=ejiBzqz01qQ
Shabbat Shalom!
Have a nice weekend.
Best,
Miss Dershowitz
---
Judaics
Kindergarten and First Grade
We had a great week this week! In Kindergarten Judaics we learnt the letters nun and enda nun! We had a great time using blue tape to make yuds,vavs and enda nuns on the floor. In first grade we have begun level green aleph champ workbook and have learnt the nekuda chirik! This week in honor of parshas shemos we made a fun project with 6 babies, because the Jewish ladies in Mitzrayim gave birth to six babies at once. Shabbat Shalom!
Second Grade
The week flew by as we spent time reviewing Sefer Breishit(Genesis) and beginning Sefer Shimot. The second of the 5 books of the Torah. Shimot means names. We are all proud of our Jewish names. After our forefather Yaakov and his children including Yosef (Joseph) all passed away the Jews were multiplying and King Pharaoh was afraid they might eventually take over the country. They therefore issued orders to first kill all Jewish male babies and then issued orders to throw all Jewish boy babies in the Nile River. In the meantime the Egyptians made the Jews work very hard as slaves in Egypt. This week the Torah portion discusses the birth of Moshe (Moses) who would eventually became the leader of the Jewish people and lead the Jews out of Egypt. We are working on perfecting our handwriting skills as well as learning the correct Brochos we make on various foods. Shabbat Shalom!
Third Grade
This week started out with a special Lashon Hara school wide project. The students are eager to work on their positive speech and to keep away from speaking poorly about other people.
In Parsha we learnt how the Jews kept their language holy not only by speaking Hebrew, the holy tongue, but also in the way they spoke to and about each other. THey also kept their clothing and Jewish names. Everyone found out what their Torah/Brit Mila given Jewish name is and we will be trying to use the Jewish name daily at least during Judaic studies. A Jewish name is deeply connected with our soul and gives us positive power.
And we also are happy to show off everytime we make sure to keep our Jewish Uniform on even though at time it could be uncomfortable.
In Kriah we reached the last exception rule and are working nicely in groups. Our goal is now to read a page in under 30 seconds and we are almost there already!
In Ivrit/ Dikduk, we learnt the last 3 prefixes, Mastered our first daily Hebrew vocabulary words and introduced the next part of Dikduk: Zachar and Nekeva (Male and female in the Hebrew language)
The third graders davening is priceless and their eagerness to give Tzedaka giving daily is inspiring. They already filled up a box of Tzedaka around Chanukah time and the box is now already almost half full!
Shabbat Shalom
Mrs Ivry
5th and 6th grade girls
Dear parents.
Thank G-d, we had an amazing week!
We continued on in Chumash Shemot learning about how the Jewish midwives refused to listen to Pharaoh and kill the Jewish babies. We learned many interesting explanations of the miracles that occurred to the Jewish people in Egypt. The Egyptians tried their hardest to break us and get rid of the Jewish people but they could not succeed! Hashem destroyed their plans and made us multiply more than ever!
The girls put on an amazing skit, acting out the miracles of Egypt.
The girls are doing a great job on their Chumash slides.
We learned about the blessing we make on fruits, borei peri Haetz. The girls all helped and we made a delicious fruit salad and said our berachot out loud.
Congratulations to Gabi Mekler and Eva Leivent on winning our Halacha raffle this week. Keep up the berachot!
We learned a lot about this week's Parsha, Parshat Shemot. We all knew so much because we're already learning it for Chumash.
We are all trying to learn from Moshe Rabbeinu who truly felt the pain of the Jewish people's suffering, although he was living in Pharaoh's palace and was not a slave.
Make sure your daughters tell you some stories from the Parsha – they are pros?
Have a great weekend!
Shabbat Shalom!
Best,
Miss Dershowitz
7th and 8th Boys
7th and 8th grade this week accomplished taking and doing well on their first Gemara test.
Congratulations!
We have been studying the laws of "your $" [property i.e. your animal] that damages. What is your responsibility, and liability in different scenarios.
We also learned about the Parsha in detail.
Boys are continuing to be the "Chazan", and are doing a great job at it.
We had fun adding up all the boys' present in the class' names! In the Hebrew alphabet, letters have a numerical value. We all wrote each boy's Jewish name. We then added up [some boys used a calculator… for accuracy, I presume] the numerical value. We accomplished studying "Yedios Klalios", math and had fun at the same time.
We had an especially terrific day on Thursday, so Rabbi Kuritsky, responding to the class vote [we do live in a democratic country after all] ran to stop and shop and purchased chips, cookies and drinks for all to celebrate. Each boy said the appropriate Bracha on each treat.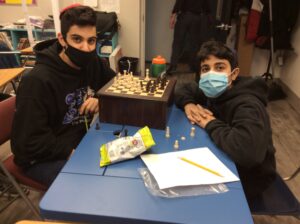 ---
Elementary School
Kindergarten
This week kindergarten was so excited to read their first story from a first grade reader. They learned all about the CK rule and can now read and spell many words that end with the letters CK. They took their first spelling pre-test and did amazing! The class also continued to write their personal narratives and they have been working on adding details to their writing. They did a directed drawing of the cat Sam from their story of the week and then they painted their drawing. They did a fabulous job following directions and they were all so proud of their paintings when they were done. In math they practiced measuring and weighing items to prepare for their test on nonstandard tools. The entire class did excellent on their math test! They practiced adding and subtracting and they learned how to find the missing whole number in a number bond. In science they learned all about gas as a state of matter. Then, they cut, glued, and sorted the three states of matter. In social studies they continued to learn about different cultures. They learned about the different types of houses people live in and they learned about Africa.
First Grade
This week our first graders were busy learning about shapes and solids. Students were interested to compare angles, sides, vertices, and edges. Students were challenged to create pictures using different shapes. It was amazing to see what they created.
In art class we made sock snowmen to remind us of the winter season. I think they did a phenomenal job.
Third Grade
This week in third grade, students explored The Great Lakes. During their Social Studies lessons they learned of their origin and characteristics using maps and articles as reference. During our Math lessons, students applied the skills they have been developing this unit, to find missing addends, minuends, and subtrahends. They also practiced carrying over and borrowing over multiple place values and locating the perimeter. In Grammar, they successfully completed their study of proper and common nouns, such as titles, names, months, and holidays. In Computer class, they began to examine the numerous parts of a computer.
Fourth Grade
4A
This week in math we continued to work on fractions. Multiplying fraction and a whole number and Finding fraction of a set.
In ELA we identified adjectives, adjectives after linking verbs, proper adjectives and completed explanatory writing activities.
In Social Studies we read and discussed living in the upper and lower South. The culture and traditions of people in the south.
We are continuing to read our class chapter book Walk Two Moons by Sharon Creech.
4B
This week in grammar 4B is learning about verbs. We are learning about subject-verb agreement, verb tenses, main verbs, helping verbs, linking verbs, and irregular verbs. Verbs, verbs, verbs!!!! In math we are mastering our fraction skills. We learned about mixed numbers and improper fractions. In social studies we are learning about the southern region of the United States.
Fifth Grade
This week went by quickly! Nevertheless, the 5th grade was quite busy!
In ELA the students learned about linking verbs and the tricky irregular verbs. They practiced finding meanings of unknown words in writing by using context clues. The 5th grade also presented their independent book projects. The book cubes turned out amazing!
In math, the class finished their review over multiplying and dividing factions. This will mark the end of our unit on fractions. Next week, the 5th class will begin learning about perimeter and area.
In social studies the students finished their unit on the geography of South America. They will have a unit test next Thursday. They will also begin their end of unit project next week. I look forward to seeing how amazing their projects will turn out!
---
Middle School
Middle School ELA
6th grade had a great week! In grammar, students learned about subject complements. We practiced finding predicate nominatives and predicate adjectives in sentences. In writing, we learned about author's perspective. We also continued our novel study of Hatchet!
7th grade had a busy week! In grammar, we reviewed combining sentences in several different ways to create better sentence variety. In writing, we had a State Test Prep assessment week. Students read nonfiction passages, answered multiple choice, short answer, and long answer questions. We also continued our novel study of Milkweed!
8th grade had a good week! In grammar, we started our unit review. In writing, we worked on paragraph structure, and wrote some beautiful long paragraphs. Mrs. Hazen is particularly impressed with Rachel's writing! We discussed how text structure helps authors carry their ideas across. In reading, we finished reading The Giver!
Middle School Social Studies
6th grade learned about ancient Indian empires this week and engaged in an interactive activity regarding empire building.
7th grade played the Summer of '87 game and stepped into the shoes of the Founding Fathers to try and solve issues revolving around the Articles of Confederation and the Constitution.
8th grade studied for and took its Unit 2 test and also began Unit 3 with a discussion of European colonialism and imperialism in the 19th century.
Middle School Math
6th learned about proportions and how to use algebra to solve them. They also learned how to complete tables using unit rates and how to graph that on a coordinate plane. There will be a test Tuesday on modules 6 and 7.
7th learned how to calculate area of a circle and how to solve for missing dimensions when given circumference. They also know how to calculate the area of a circle given circumference. There will be a test Tuesday on module 3, 4.1 and 4.2.
7th honors completed unit 3 on geometry. They learned how to calculate surface and volume and apply the formulas to composite figures. There will be a test Tuesday on unit 3.
8th learned how to solve inequalities and graph the solution set on a number line. They also learned how to solve word problems with inequalities. There will be a test on chapter 2 Tuesday.
8th grade Math B reviewed cross sections by creating the shakes with plain and cutting them with playing cards. The visual really helped see the cross section
8th honors learned how to solve inequalities, graph the solution set on a number line, and represent the solutions in interval notation. They also learned how to solve word problems with inequalities. There will be a test on chapter 2 Tuesday.
Please meet our class sorter goblin.
Middle School Science
7th Graders are rocking and rolling. Students have learned how to use their critical thinking skills, math skills, listening skills and apply their knowledge to an at home experiment. Students learned how to create data tables, extrapolate their data and plug into graphs. Students are now discovering the world of cells. Students are investigating through microscopes and seeing what the world looks like from a microscopic view.
8th Grade is identifying how photosynthesis and cellular respiration are inter related. Students have identified the reactants and products of biochemical processes are necessary for the proper functioning of each process. In addition, students investigated the role fermentation plays in the making of bread. They were able to explain the function of bacteria and its significance in the process.