In Parshat Lech Lecha we learn about our ancestor Abraham's ascension to prominence as he travels to Israel, goes down to Egypt and then returns to Israel a wealthy man.
When war breaks out between rival kings in the region he joins the war to rescue his nephew Lot who had been taken captive. Abraham was victorious in battle, released all the captives and returned all the spoils. The king of Sdom wished to reward Abraham with all the spoils of the battle but Abraham rebuffed the king's offer lest the King of Sdom take credit for enriching him and the credit not be attributed to G-d:
" אִם־מִחוּט וְעַד שְׂרוֹךְ־נַעַל וְאִם־אֶקַּח מִכָּל־אֲשֶׁר־לָךְ וְלֹא תֹאמַר אֲנִי הֶעֱשַׁרְתִּי אֶת־אַבְרָם"
"Neither from a thread to a shoe strap, nor will I take from whatever is yours, that you should not say, 'I have made Abram wealthy."
Abraham's example of items he will not take from the king seems curious. If he would have stated "from gold and treasures to a thread" that would be understandable but why would he choose two negligible items cover the whole gamut of spoils he does not want to accept?
Rav Shamshon Raphael Hirsch (1808-1888) teaches us a vital lesson to explain Abraham's statement. When measuring the distance between two points on a map, the shortest distance is a straight line. However, you can also measure by circling the globe and measuring the distance by going full circle. Thus, two cities adjacent to each other in one sense take up only a small part of the world but measured differently will encompass the entire globe.
Abraham was saying that from his perspective every item in the world, from the grandest to the simplest, is important; even a thread is something to be valued and attributed to G-d. This is because everything in the world, if used properly, serves as a tool to live a proper life in the service of Hashem. Thus the proper way to measure the spoils was not linear rather as a circle, for there aren't levels of possessions when it comes to living a g-dly life; all can be and should be used in their proper manner, and we must recognize Hashem's gifts in all their various forms.
Torah encompasses all we have and we are all heirs of Abraham in realizing this phenomenon.
Shabbat Shalom,
Rabbi Stewart
---
Special Annoucement!
Mazal Tov to Morah Toba Safran on her engagement! SIHA wishes her much happiness!

A big SIHA congratulations to the stellar scholars who achieved this month's Student of the Month Status!

Kindergarten: Liad Hanuka

First Grade: Sloane Garber

Second Grade: Lielle Garber

Third Grade: Natalie Fromchuk

Fourth Grade (A): Israel Hanuka

Fourth Grade (B): Hanna Kimmerling

Fifth Grade: Ziva Iunger

Middle School: Madison Graham
---
Enjoy a new edition of our weekly podcast!
---
Judaics Curriculum
Kindergarten:
If you passed by our Kindergarten classroom you may have seen a lot of hopping because this week we learnt the letter Hay! Hay has a broken foot and he has to hop, hop, hop! We have a super fun hay hopping song that we really enjoy doing! This week we learnt about davening/praying to Hashem. We tried to call the president but we could not get through, but Hashem who we love so much and loves us so much is the most powerful! and we can speak to Him whenever we want and He is always listening! We had a great time learning about the parsha, Hashem promised Avraham that he would have as many children as the stars. We are those stars! We had lots of fun making our star necklaces and can't wait to show them to our families!
First Grade:
Our first graders are becoming super hebrew readers, with our beginning of learning the first nekuda, kamatz! We have been flying through our aleph champ workbooks and our heading towards the next nekuda patach! We really enjoyed doing timed reading with partners! This week we learnt about why Hashem created the world. We know He created it for us, in order for us to enjoy. Where do we get the greatest enjoyment from, ask any first grader and they will tell you, the greatest pleasure comes from connecting to Hashem, learning Torah, and doing mitzvot. Shabbat Shalom!
Morah Kaplan
Second Grade
We had a wonderful week in 2nd grade learning all about our forefather Avrohom who rejected idol worship and recognized the greatness of Hashem (G-d) as the creator and sustainer of the world. We enjoyed acting out Avrohom breaking his fathers idols. We know so many colors in Hebrew and as well as many Aleph bet letters and their matching numbers. We figured out that if the letter yud-10 and Aleph-1 10 +1 -11 yud Aleph would equal 11. Shabbat Shalom,
Morah Spiegel
Third Grade
Third grade students are now ready to write the date in Hebrew independently. Now that they are masters at spelling the days of the week in Hebrew, they started practicing the correct spelling of the months of the year and learning them in order, knowing which Jewish holiday falls on which month.
They love practicing their spelling and I am so proud of their work and progress.
Each morning I have the pleasure to hear their pure and beautiful voices singing the davening. They now know how to follow in the words and are looking forward to learn more davening parts starting next week.
Our class Tzedaka box is already almost full! They all eagerly bring coins daily to give to the poor. I am so proud of each one of them.
In Parsha, we learnt how important it is to be able to recognize when we cannot get along with someone and separate ourselves to avoid fights. But that does not mean we do not live and care for each other. Just like Avraham had to separate from his nephew Lot because of the fights their shepherds had. But Avraham still came to Lot's rescue when he was captive during a war against the 4 kings.
Shabbat shalom
Mrs Ivry
Middle School Boys
This week as we continued our journey through the Mishna, we had an exciting addition, Quizlet! A great way to review.
Ask your sons. Shabbat Shalom!
Rabbi Levy
We continued our Shma unit as well as learning the laws of Tefillin. We've begun to tackle the Mishna on :כח and started the Gemara on it as well as the boys anticipated many of the Gemara's steps on their own.
Rabbi Stewart
---
Elementary School
Kindergarten
This week kindergarten did an amazing job in ELA class. They are becoming so good at sounding out words and spelling sight words correctly that this week they wrote sentences with no help! They are so excited that next week is their alphabet party to celebrate that they learned all the letters of the alphabet. In math they learned about sorting, left and right, and played number pattern games. They also practiced directional words by singing and dancing. In science they continued to learn about the water cycle and they learned about the 4 seasons. They painted a tree to show what trees look like in the fall. In social studies they continued to make their all about me books. They can't wait to share their books with the class and learn what things they have in common with their friends.
Ms. Syetta
Second Grade
The second graders had a busy week! In math, they learned how to add two three-digit numbers together with renaming. In ELA, they finished their first trade book The Chocolate Touch. They also finished writing their personal narratives. In Social Studies, the second graders showed their knowledge on the different types of communities. On Monday, we had a spelling bee. Our winner was Ayden Rozman. Congratulations Ayden! This Friday was Ayden's last day at SIHA as he's moving to Florida. We're all so sad to see him go and will miss him so much! Our Student of the Month is Lielle Garber. Way to go Lielle!
Best Regards,
Gabrielle Bronstein
Third Grade
This week grade 3 successfully completed their first math test. They then began to learn about rounding numbers to the nearest ten and hundred. During their grammar lessons, students practiced identifying complete subjects and predicates. They also completed their social studies chapter on the places we live. They finished it by comparing and contrasting urban, suburban, and rural communities. Students also learned about Aesop's fables and are in the middle of reading The City Mouse and the Country Mouse. They are exploring the similarities and differences of this fable to the book we read last week, The City Kid and the Suburban Kid.
This week we also presented Natalie with the very first student of the month award! She worked very diligently and is a great helper within our class community.
Miss Sasha
Fourth Grade
4A
This week in math we worked on multiplication, long division and solving word problems with the use of bar models.
In ELA we identified singular and plural nouns. Completed a few compare and contrast writing activities. We also had our first poem memorization Recess Oh Recess this week
In Social Studies we completed chapter 2 Understanding Regions and reviewed for the test.
Mrs. Shats
4B
We had an exciting week in 4B! On Monday we celebrated the birthday of Ariana Guz, who turned 9 years old! But it wasn't all fun and games this week. We had a math test and a grammar test this week. One student in particular got the highest score in the class on the math test, and the third highest score in the class on the grammar test. Because of her scholastic achievements this week, and her overall attentiveness in class this month, she received the honor of being 4B's first student of the month! She goes by the name of………Hanna Kimerling!!! Congratulations Hanna!
Mr. F
Fifth Grade
Fifth graders had an amazing week!
In ELA, students learned about combining sentences by making compound subjects and compound predicates. They also practiced fixing run-on sentences. In math, students practiced both mental math and the distributive property of math to make computation easier. We also started on word problems, and reviewing bar models.
In Social Studies, students worked on their lap book project. We read articles on Native American settlements in each region of America.
Ms. Tatic would like to commend Gabi Mekler for being amazing!
Middle School
---
Middle School ELA
6th Grade had a busy week! We finished our Fish in a Tree essays and discussed characterization. In grammar, we reviewed our unit, and completed the unit test. Everyone did very well!
7th grade had a busy week! We had our graded State Test practice. Students completed multiple choice, short answer, and long answer questions. We also continued our novel study of Great Gilly Hopkins. Great job!
8th Grade had a busy week! We completed our unit on making inferences by reading nonfiction texts. Students also continued our novel study of Watsons go to Birmingham-1963. In grammar, we reviewed incorporating colorful language in our sentences, and learned about the differences between connotation and denotation. Mrs. Hazen would like to commend Ethan Azaraev for getting a 100% on every Grammar quiz since the beginning of the year!
Middle School Science
7th Grade is learning how to think like a scientist. They will be learning step by step how a scientist comes up with a theory. Answering essential questions or identifying problems through observation, investigating and researching data. Students will be creating hypotheses, explaining quantitative and qualitative data through analysis, graphing, experiments. Students will be completing their own lab experiment and writing a full investigative report.
I would like to mention Lana for going above and beyond for her classmates, as she observed one of her classmates needed assistance with an assignment and without prompting or asking walked over to him and assisted him. Way to go Lana! I would also like to mention Noga for outstanding work ethic, as she was unsure what to do for a particular assignment and went about it the best way she knew how without clarification as she didn't want to "just not do it" she earned extra credit for completing the assignment.
8th Grade students are learning how our body responds to various macronutrients and what purpose they serve. Students will be able to explain how and why food does not just enter our cells that it must go through a process before we can use the nutrients from the things we eat. Students will be analyzing their own eating habits and make changes within their daily diet and activities. They will be explaining how they enter cells and what body systems work together to distribute said nutrients. Students are also investigating what things look like under a light microscope and identifying the various types of microscopes and what they are used for. Students are learning the difference between quantitative and qualitative data, how to extrapolate data and plug it into the appropriate type of graph.
8th Grade I would like to mention Yosi for always being willing to help out. Yosi never has to be asked, he sees a need and he offers assistance. He always asks me if I need help and goes out of his way to make sure all is well. Thank you soooo much, Yosi.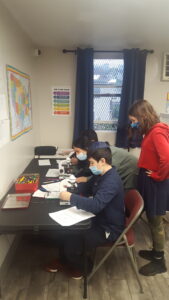 Middle School Social Studies
Good morning,
This week, 6th grade learned about the Chaldeans and Phoenicians, including the evolution of writing.
7th grade explored the Atlantic World, including the Triangle Trade and Middle Passage.
8th grade discussed Reconstruction.
All three classes also worked on their essays, which will cap the first marking period
Middle School Math
This week 6th grade worked on fraction division and division using bar and line models. Even though most struggled to grasp these concepts I firmly believe that next week they will show a much better understanding of these concepts since the majority of the week was spent going over related practice problems.
7th grade continues their work on expressions, like terms and basic algebraic operations. They are doing quite well and moving at slow yet steady pace. On the other hand, 7th grade is currently solving equations that require one and/or more steps to solve. Despite some hiccups in the beginning, they are now progressing with more confidence, accuracy and fluidity.
8th grade is finishing their unit on scientific notation. They've explored the significance and meaning of the latter. They have mastered concepts such as order of magnitude, coefficients in scientific notation standard form. 8th grade honors is currently rapidly making their way through equations and literal equations and their applications in science and in the world as we know it.
Jewish History
Both 7th and 8th grades had their first unit test this week! I was pleased with their performance.
7th grade began Unit 3 with an examination of the world around us just like Avraham Avinu did. Each student is now studying a creation and will present their findings to the class. I cannot wait to see what they come up with! We will then continue our exploration of Avraham Avinu's life.
8th grade is about to dive into the Babalonian exile. We will explore what happened as Hashem pressed the reset button to start again with a second Bais HaMikdash!
Mrs. Rosskamm